A meeting was held on Thursday, November 24, 2022, between CarePlus and VNHR to sign the Strategic Partnership and commemorate the five years that CarePlus has been a Strategic Partner of VNHR.
Attendants of the meeting:
CarePlus Representatives:
Mr. Attila Vajda

, General Director

Ms. Nguyễn Minh Nguyệt

, Business and Client Experience Development Director

Mr. Roland Toth

, Operations Support & Expansion Manager
VNHR Representatives:
THE PURPOSE OF BECOMING A STRATEGIC PARTNERSHIP: BE COMPANIONS TOGETHER
The health and well-being of employees are one of the most crucial elements in every company policy for employee care and retention. The foundation of excellent productivity is to have a healthy body, so annual health exams and treatment at a reputable clinic are perks that HR managers consider the most. In several years, with an exclamation point of self-qualification, CarePlus has become top of mind in choosing a place of quality healthcare for employees in the southern market. By working with Vietnam's biggest HR community, CarePlus will always have the chance to support the community better. CarePlus becomes a medical support partner and disseminates common medical knowledge to employees with specific and relevant topics. Such as talk shows on COVID or interesting medical subjects that all members consider, and keep collaborating with VNHR and VNHR members to present employees with relevant health information.
CarePlus is developing the CarePlus App that brings other convenient solutions to make medical examination and care more convenient. Thanks to features like booking an appointment, viewing high-security electronic medical records, remote consultation, and home delivery nationwide from Long Chau Pharmacy. In particular, the Careplus App has provided a feature to check the status of performing health checks for businesses—a solution to optimally support HR staff and reduce pressure when organizing health checks.
CarePlus creates health checkup packages that match the requirements of each organization using the benefits and experience gained by providing healthcare to more than 500 businesses and groups. CarePlus assists employee healthcare so that the partner business may be assured entirely and concentrate on business growth, labor efficiency, talent retention, and team stabilization. Employers always prioritize employee healthcare demands over wage and policy requirements, especially in the wake of the COVID-19 pandemic.
CAREPLUS INTERNATIONAL CLINICS
CarePlus is a 100% foreign-owned Vietnam-based specialist and primary care clinic chain offering uniquely patient-centric, high-quality, affordable outpatient healthcare services with best-in-class professionals and modern equipment. It has become the leading clinic chain and preferred choice in numerous business segments such as health screenings and preventive care, pediatrics, cardiology, female health, etc., and three polyclinics in Ho Chi Minh City.
CarePlus has various direct billing insurance networks, an insurance health screening network, and a corporate health screening network. It also built the largest network of partnerships to provide trustable healthcare to customers.
In September 2022, CarePlus International Clinics was honored to receive an official award in Asia: the Asia Pacific Enterprise Awards (APEA) 2022 in the Corporate Excellence category. To be evidence that the CarePlus Clinic System has demonstrated sustainable growth, responsible leadership, and excellence in healthcare for the benefit of all patients over the years. As well as having a significant positive impact on society in Vietnam, this significant award in the Asia region presents by Enterprise Asia, a leading NGO that recognizes business excellence.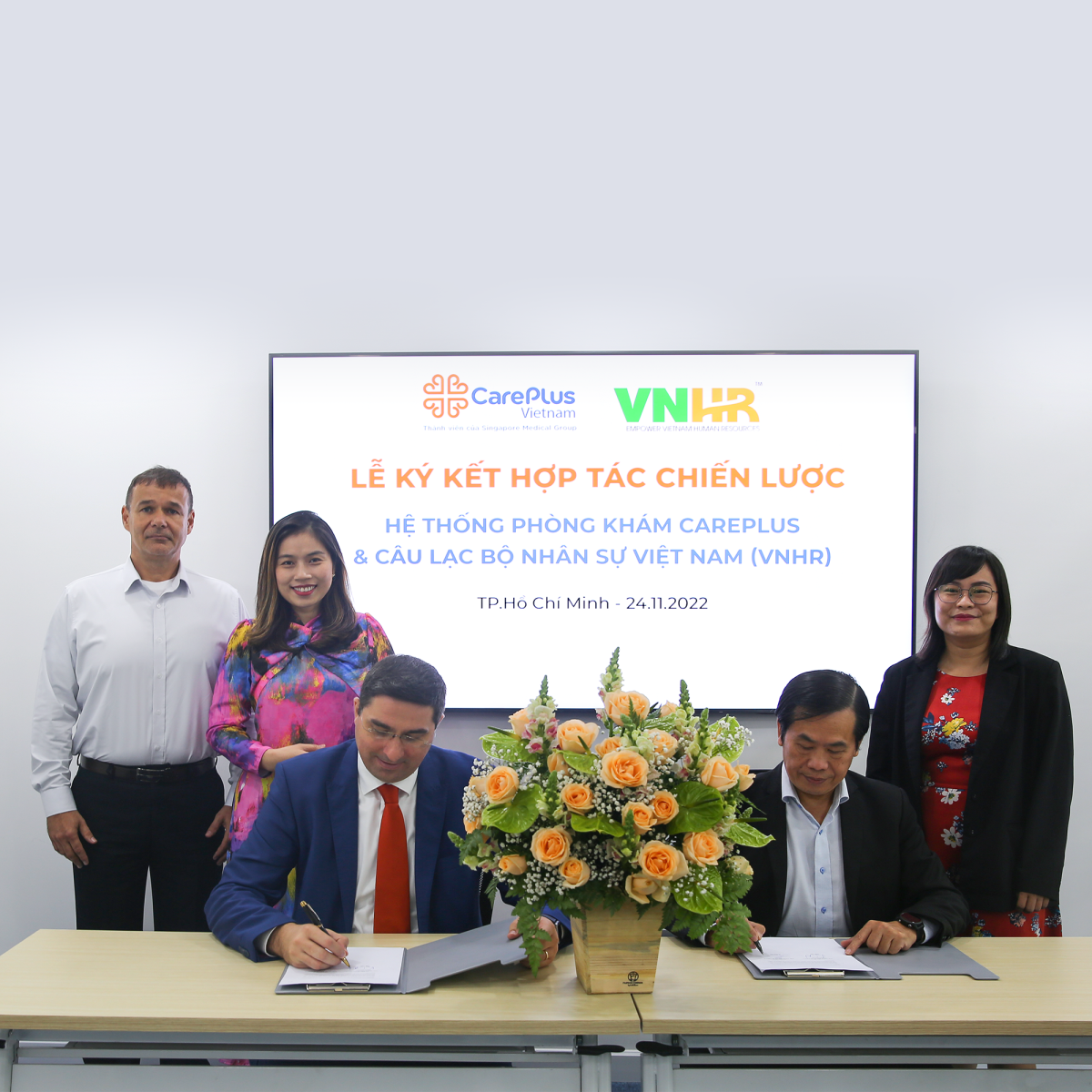 The VIETNAM HUMAN RESOURCE CLUB, or VNHR, is a well-known social and professional group in Vietnam that regularly draws the participation of many of the top specialists in the field. VNHR currently has more than 1200 official members and is active year-round in Ho Chi Minh City, Hanoi, Vung Tau, Da Nang, the Southwest region, and numerous other provinces. More than 800 businesses and organizations, including more than 50% of corporate members who are multinational corporations or companies, and working people make up the mebership of the VNHR, which has more than 60% of members who hold managerial positions in the industry.
To develop and raise the caliber of professional human resources professionals in Vietnam, VNHR organizes more than 50 activities and events annually in various formats, including professional exchange forums, online consulting groups, seminars, meetings, and staff training programs monthly.