Burns, whether shallow or deep, cause damage to the skin and change its structure. However, many people are still entirely subjective in caring for burn wounds. Self-treatment without guidance from a doctor often leads to a long treatment time, low results, and unwanted scars.
CarePlus international clinic offers burn wound care AT CLINIC AND HOME for the following types of burns:
Thermal burns (caused by fire or hot liquids)

Cold burns (from exposure to wet, windy, or cold conditions)

Electrical burns (caused by contact with electricity)

Chemical burns (due to exposure to chemicals)

Radiation burns (caused by the sun, tanning machines, ultraviolet rays, X-rays, or radiation in cancer treatment)

Friction burns (caused by contact with hard surfaces such as roads, carpets, or gym floors)
Through research and working process, CarePlus's medical team found that traditional wound cleaning solutions and dressings do not respond well to the problems that burn wounds need (such as the degree of fluid absorption, poor dressing, or the damage being too dry due to excessive use of absorbent gauze).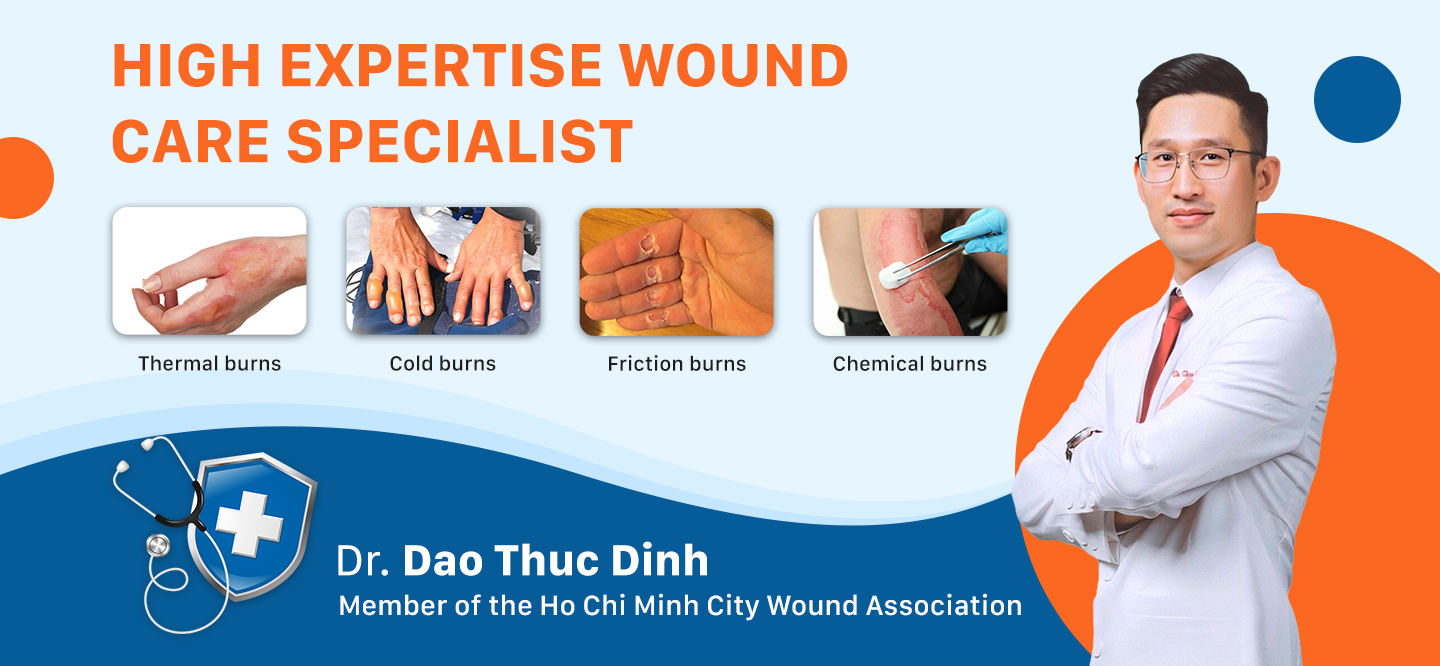 Careplus uses Safetac technology (new generation cleaning solutions and dressings) from Molnlycke (Sweden), the world's leading brand in dressings and wound care materials, to get the most out of wound healing. Molnlycke materials are well-known for :
Removes almost completely bacteria on the surface

No further damage to healthy tissue

Suction good and moderate secretions for the moist environment at the wound

A pH balance of about 5-6 is the right level to speed up the healing process

Minimize tissue adhesion to the dressing, so there is no pain during the dressing change
With the care and guidance of an experienced medical team and the use of prestigious and quality products of the international brand Molnlycke (Sweden), Careplus is confident in bringing maximum patient satisfaction.
Please inbox or contact the hotline for more information on optimal treatment solutions for each patient and specific type of wound.
🏥 CAREPLUS INTERNATIONAL CLINIC SYSTEM
Member of Singapore Medical Group
Branch 1: Savico Building, 66-68 Nam Ky Khoi Nghia, Nguyen Thai Binh Ward, District 1
Branch 2: 2nd Floor, Crescent Plaza Building, 105 Ton Dat Tien, District 7 (Next to Crescent Lake)
Branch 3: 107 Tan Hai, Ward 13, Tan Binh District (Next to ETown building)
Website: www.careplusvn.com –
Free Hotline: 1800 6116